Security using passwords is pretty standard nowadays and most Microsoft® Office applications allow you to password protect their files. We will use Word as a fully illustrated example and list the options for the others.

Microsoft® Word

Password protection is an option set at document level. There are two types of password:
Open: To be able to open the file;
Modify: To be able to edit the file;
To set the passwords, follow these steps:
1) Select Options in the Tools menu:

2) Select Save on the Options dialog. Insert each password as appropriated (you can insert only one of them or both). press the OK button.

3) The passwords will be confirmed:

4) Next time the document is opened, the password(s) will be requested:
Microsoft® Excel
There are 3 types of protection available in Excel:
Sheet - protect just one sheet, the other are public;
Workbook - protect the whole workbook (the full Excel file);
Workbook with share - Allows other to change the file but tracks the changes and does not allow them to be removed;
The pasword protection is activated using the Protection option of the Tools menu:

Microsoft® PowerPoint
You can't password protect PowerPoint files. There are two alternatives around this problem:
Use the universal solution at the end of this TIP – if you really want to prevent others from reaching the file content;
Save as a SlideShow – This will allow anyone to see the presentation but not to edit it – it immediately enters slideshow mode when opened. Useful if all you want is to prevent others from modifying it, but not to see its content.
To save a presentation as a SlideShow, use the "Save As" option from the "File" menu and select the SlideShow file type: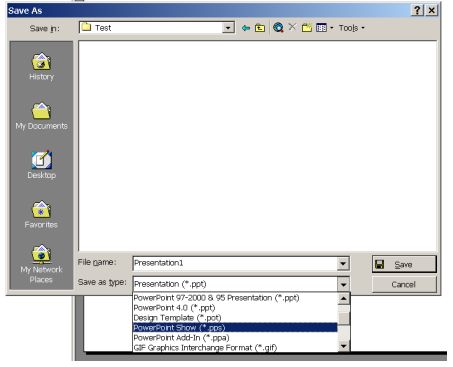 Microsoft® Access
Access has a very sophisticated password protection scheme because it's a database. You can define users and profiles and give different rights to each one. But that's better left to the IT people!
There is also a simple, "protect the whole file" approach, similar to Word's: You need to enter the password to open the file, once opened you can do whatever you want. Use the "Set Database Password" option on the Security sub-menu on the Tools menu: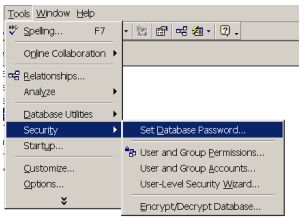 Other Microsoft® Office Applications
You have to check each one. Check the Options entry in the Tools menu and the Save As option of the File menu. Check all options on the Tools menu. And check Help for the words "password save".

FrontPage doesn't allow password protections (it generates HTML pages and HTML is an open text format, password protection is not possible). The author doesn't use Project or Publisher to be able to check them, but at least Project should provide a security mechanism.
The universal solution: use WinZip!
WinZip is widely used to compress files into a single ZIP file that can be emailed or otherwise transported with smaller size than the original files. It can therefore archive several files (or just one) in a new archive.
What most people doesn't know is that it is possible to set a password on a ZIP file. Without it, it is impossible to extract the files inside. And since any kind of file can be added to a ZIP archive, it is really an Universal solution.
To set a password for a ZIP file, create it first (and add the files to be protected) and then use the Password entry on the Options menu:

Can I know more about this subject ?
Check our FREE PC Tips and Tutorials. They will be regularly published. Better still, subscribe our Email Newsletter. You will be informed when contents updates are made and automatically granted participation on any future promotion.